Think about your day, and even the last few hours. Has there been a moment where you've given yourself a hard time or been in a frustration? Have you interacted with a loved one or stranger who is stressed, is doing the best they can, feels disengaged from forgiveness or needs simple affirmative respite of some kind? Need a free pass…?
The core of Free Pass Project art is the opportunity for you to engage in spontaneous compassion one to another via 'Free Pass tokens'.  The art object of a re-purposed poker chip being crafted into a 'free pass' is an accessible 'currency' to mindfully and creatively express compassion. This object is a prompt to notice the people and world around you. There is a small risk in reaching out. The reward of a compassionate observation, behavior and acknowledgement can shift your mood, and those around you, generating energy and ultimately impacting well being.
Those times when you allow a car to merge in front of you in traffic, frequently that driver will then do the same.  That positive behavior is a default in our chemistry that often gets squelched, over looked or is just hard to maneuver. The Free Pass Project is a way to creatively engage for all of us to, in a given moment, be our best self. This is your art.
2014 magazine article about the first part or the FPP project…
Compassion is "a sympathetic consciousness of other's distress with a desire to alleviate it."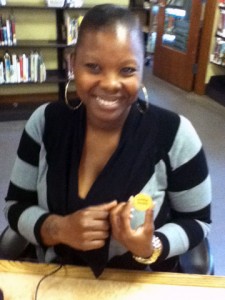 "I have this one for an opportune moment to forgive a late book fee." Rhode Island
What I hope for the second aspect of Free Pass Project art, over time, is that with token travels you will share these stories. This may be what happened in an exchange, or a self compassion you were prompted for, or even a photo, tweet or video clip of a random token drop in a public space. In this art and creative engagement I believe somehow witnessing and documenting our stories is an added layer of human community health. In the long arch of the Project, I hope through social media or the site, that a single mom in Texas and lawyer in NYC might both share and learn from each other. Some free pass exchanges to date can be found here…
If you've just found or gotten a Free Pass Project token, your token has unlocked a story or two.  Adding your story here,gets it sent to me, Rachel, the lead artist, and posted with permission.
To date, people's involvement with just this aspect of the art has been remarkable. Many Free Pass tokens have gotten out in the world via Free Pass Ambassadors in 18 states, and three countries to date. They receive a quantity of tokens, or token jars, to jump start the Free Pass Project in their communities.
I launched this core part of the Free Pass Project in January of 2014 I had the idea for the scope of the project, made some Free Pass tokens, and launched the Facebook page community within the span of a week. Creative inspiration works that way sometimes. Countless people have participated with Free Pass tokens, supported me and the Project, and I've been participating in the art. It is called a Project because of collective participation, and it is a fluid, long term, theme.  Your art. Everyone. Everywhere.
I've started posting my own experiences and stories 'Free Pass-ing' , sharing cues for other people to start in on 'Free Pass-ing' and other ways I'm being creatively impacted by the work.
Rachel Cyrene Blackman
Let's do this!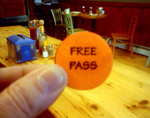 This activity was made possible in part by a 2014 project grant from the Rhode Island State Council on the Arts.